Once again I'm back to share some gift ideas for the foodies in your life!
I would still recommend every item on my list from last year, so feel free to start there. I wanted to make sure there were no repeats, so I rounded up 10 new things that would make an excellent gift for the food-lover in your life (read: anyone who loves to try new things, loves cooking, and considers exploration of the local restaurant to be a major hobby 🙋).
It was important to me to also provide options for budgets all across the board so trust me when I say there is something for everyone. Here we go!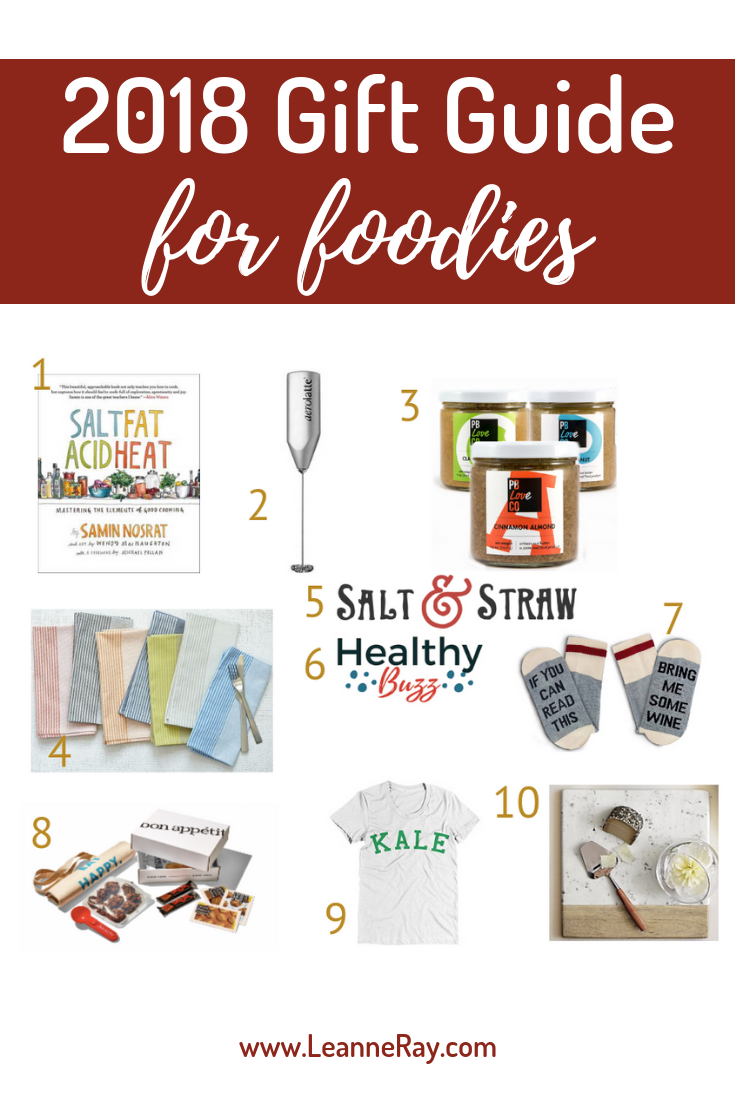 Salt, Fat, Acid, Heat. I've shared about how much I love both this cookbook and the Netflix series. The book would be the perfect gift for someone who loves learning about the science of food and cooking. As a bonus, the illustrations throughout the book are super unique and beautiful!
Milk Frother. This is a simple tool that allows you to whip up a fancy-ish coffee or tea drink in less than two minutes. I use mine to make tea lattes in the afternoon, or to froth up some eggnog for coffee around the holidays. The one I linked is similar to mine and even has a travel case. Need I say more?
PB Love Co Nut Butters. PB Love Co is one of my favorite new food product finds of 2018! This is a Denver-local company and they make fantastic nut butters — just the right amount of added sweetness and the perfect texture. For the fellow nut butter lovers in your life, send a three-pack that includes the classic peanut, salty peanut, and cinnamon almond flavors.
Pretty Cloth Napkins. I may have a bit of food blogger bias because I love using pretty napkins in my photos, but who wouldn't love to have a set of these for entertaining? It's a great way to add a little flare to your table setting.
Salt & Straw Ice Cream. OMG hands-down the best ice cream I've ever had! I've been to the original S&S in Portland, plus one of their new locations in San Diego and the flavors are always so creative and delicious. If you have someone in your life that's ice cream obsessed like me, you might consider sending them a sample pack. It would also make for an easy but special dessert if your giftee is hosting anything in the coming months.
If You Can Read This Socks. I bought these socks for a few different wine-lover friends last year (okay, I also bought a pair for myself) and they were a hit! I love stuff like this because I would never buy it for myself, but think it's fun to sneak them on once in awhile and see if anyone notices the message on the bottom.
Wood & Marble Square Platter. This GORGEOUS marble and wood platter from C&B would make the perfect serving tray for a snack board over the holidays or any time. It's pretty enough to keep on your countertop and totally Instagram-worthy too!
And also just as a reminder, some of these are affiliate links which means I earn some extra cash (at no difference in price for you) if you purchase any of them. Happy shopping!
Pin this post to refer back to it later!
Want More Plant-Forward Recipes?
Join my VIP list and I'll send you five reader favorites! Healthy, flavor-packed recipes. What's not to love about that?