Skip the Starbucks protein bistro box and put your own twist on it! This one is filled with fresh and healthy fruits and vegetables, satisfying cheese and crunchy whole grain crackers.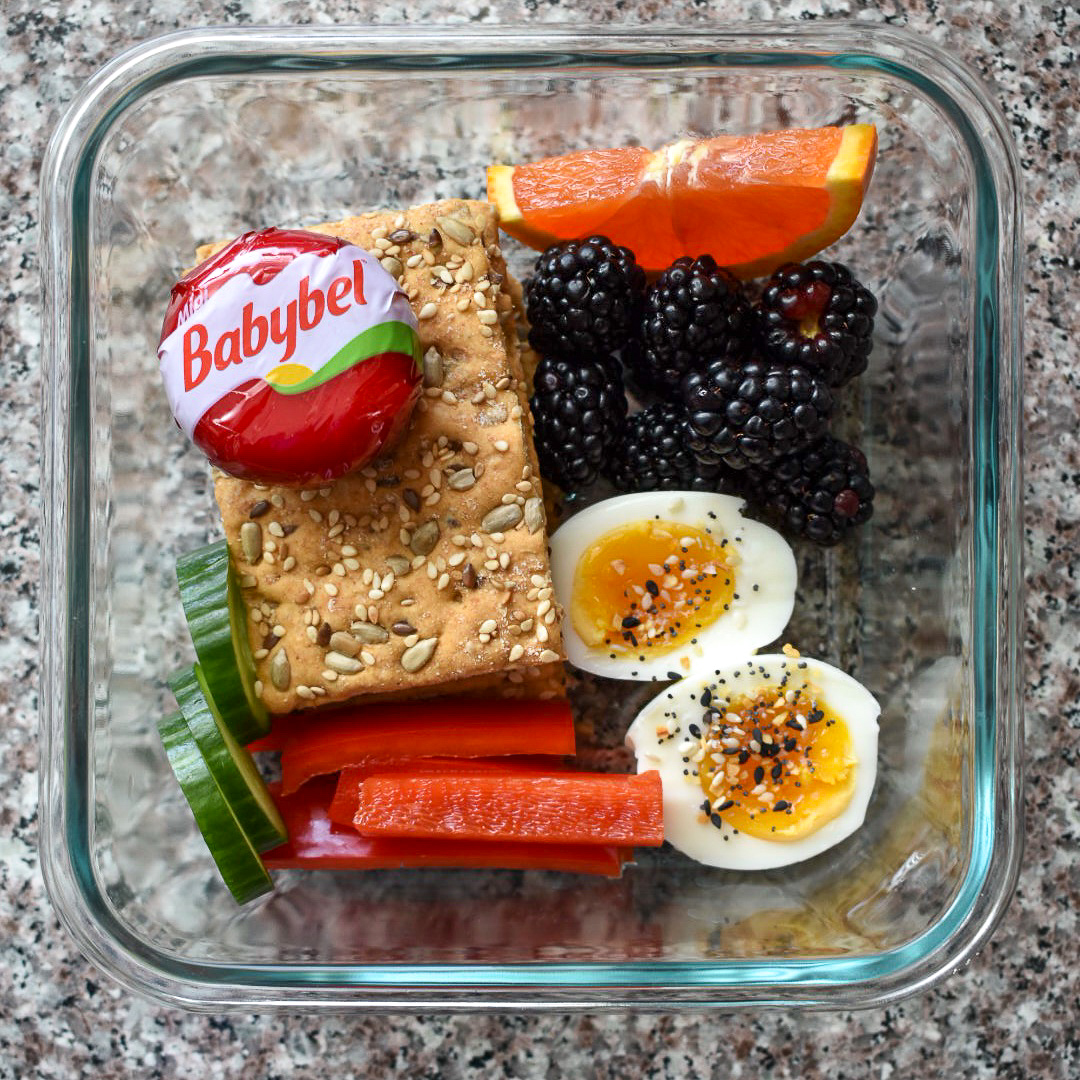 About the Starbucks Protein Bistro Box
When I was still working in an office, I would bring my coffee, lunch and snacks for the day instead of eating out about 95% of the time. Not a shocker – this is a huge money-saver for anyone looking to cut back on spending and a great way to cut back on food waste and eat your leftovers. I digress.
Every once in awhile I would venture out for an afternoon snack (especially on nice weather days when I wanted an excuse to get outside) and the one place that was walkable was a small Starbucks down the street. They had a couple of options like yogurt, popcorn, chocolate-covered nuts and bananas. Nothing special, but something I could make work if I got an afternoon iced coffee out of the deal.
Then they started serving something called a "protein bistro box" that had a hard-boiled egg, apples, grapes, cheese, a pita bread of sorts and some peanut butter. I loved this idea in theory; if you've been following me long enough you know I'm a fan of snack pairing and "snack lunches". The first time I tried the bistro box though, I ended up being totally underwhelmed – it just lacked flavor and was kind of… blah.
Even though I mostly work from home now, I wanted to put my own twist on the bistro box and freshen up the ingredients to be more fresh, colorful and interesting. These would be a great addition to your weekend meal prep! The best part is, you can buy whatever looks good so you never get bored of the same old stuff.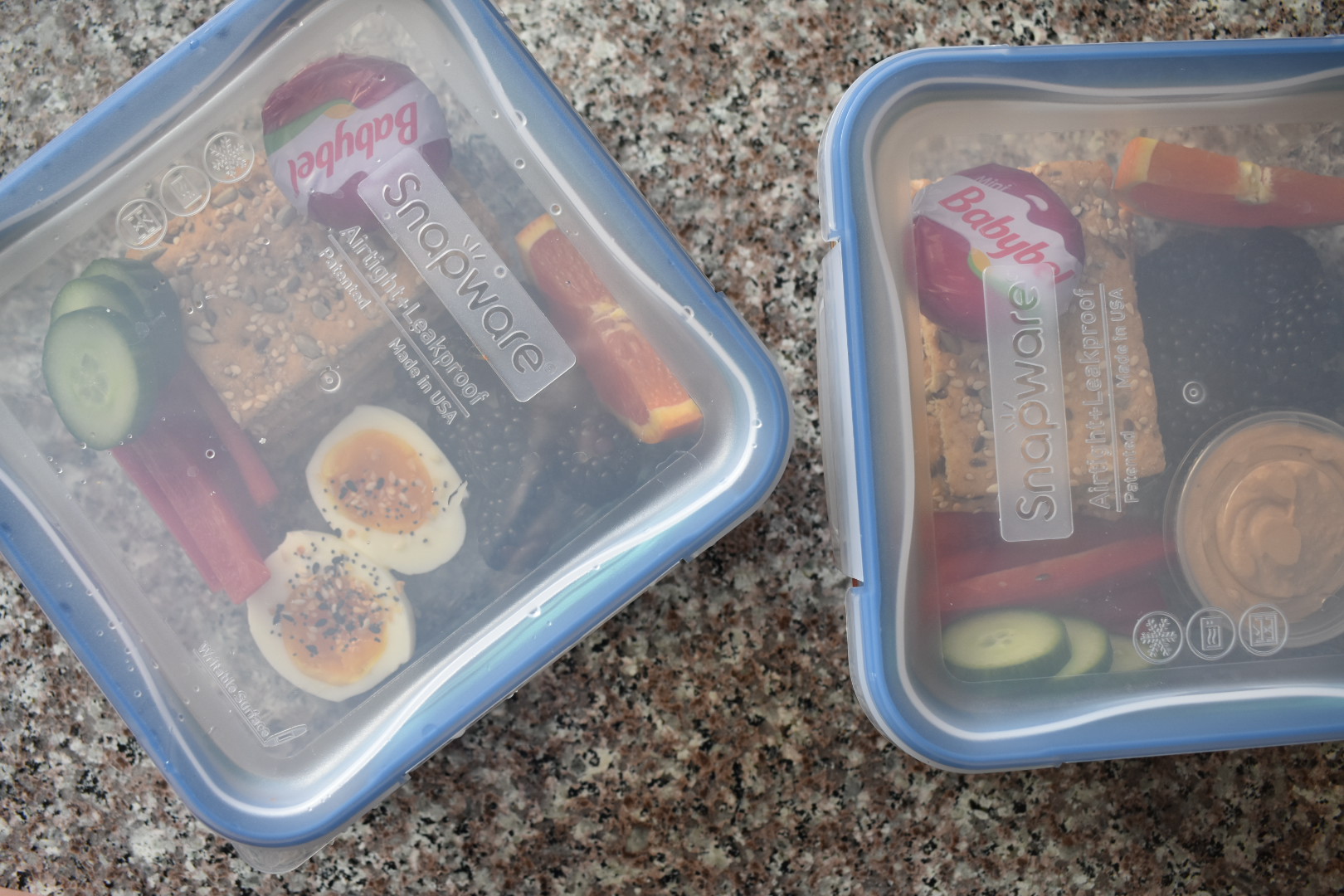 How to Build Your Own Starbucks Protein Bistro Box
Before I get started let me just clarify there really is no "right" way to make these. But for the purpose of inspiration, here's a rough idea of what to pick up from the store for a colorful and satisfying box:
Seasonal fruits and vegetables

Mini pita, whole grain crackers or chips

Eggs, hummus or your favorite deli meat (I would avoid anything smoked, because the potent flavor will probably make everything in the box taste smokey)

Cheese (I love Babybel because they are individually wrapped, portable and full of flavor)

optional: nuts or trail mix, chocolate covered espresso beans, dried fruit, and maybe even a tea bag!
To start, set up an assembly line for efficiency. Then just start dividing each item between your favorite food storage containers. I love these Pyrex ones because they don't stain, they're dishwasher safe, clear (so I can easily see what's inside) and also have the lids that lock on for an airtight seal. I've slowly been transitioning to pyrex over the years and getting rid of my dingy plastic containers. These are such a great investment!
I only had one hard-boiled egg left when I initially made these, so one of the boxes pictured has a side of roasted red pepper hummus. I grabbed a disposable salad dressing container from the grocery store salad bar but you could also use a parchment baking cup or small condiment dish to keep dips and spreads separate.
Upgrade Your Protein Bistro Box
Ditch the Pre-Sliced Apples
I used berries and orange slices instead of apples because I'm not a fan of the packaged, pre-sliced apples. They tend to lose flavor and start to brown fast once you cut them. Use any seasonal fruit that you like!
Take Care Not to Overcook the Eggs
I prefer more "medium-boiled" the eggs and topped with Everything-But-The-Bagel seasoning. I know the overcooked hard-boiled eggs are probably a food safety precaution but I like mine to be more on the jammy side. If you haven't tried EBTB seasoning on your eggs, highly recommend!
Go High-Fiber with Grains
I went with a seedy cracker over the pita bread for more crunch. This brand was new to me and I'll definitely be buying them again. I loved that they had really good texture and 3 grams of fiber per serving.
Add Colorful Vegetables
Lastly, I added some vegetables for more nutrition and variety (and because that's one of the the things I do best 😂)
Cost Comparison
The Starbucks version is somewhere between $4.50-$5.50 based on the information that I found online (dependent on location of course). I wanted to calculate the cost of the one I made at home for the sake of comparison and here's what I came up with (broke out into cost per serving for each ingredient):
Crackers $0.56

Orange $0.36

English cucumber $0.25

Red bell pepper $1.00

Egg $0.22

Hummus $0.30

Cheese $0.80
Total cost per one box = $3.49
Dang those bell peppers! The cost of the made-at-home version isn't much lower because I used the red bell pepper and they are $$$ (this is the cost I pay for wanting colorful photos).
If you left the bell pepper out or swapped in something like celery sticks or carrots, the total cost would be about half of the store-bought version and since you can make several in a short amount of time I would say that's a win!
The only thing missing is that iced coffee but I'll save that tutorial for another post.
Note that there are affiliate links in this post meaning, at no cost to you, I will earn a small commission if you click through and make a purchase. Thanks for reading!
Want More Plant-Forward Recipes?
Join my VIP list and I'll send you five reader favorites! Healthy, flavor-packed recipes. What's not to love about that?