Wondering why all the fuss about tahini? In this post I answer common questions about this favorite ingredient staple of mine and share some of the most-loved Healthyish Appetite recipes featuring tahini. From sweet treats to savory dressings, it's one of the most versatile items you can keep in the pantry!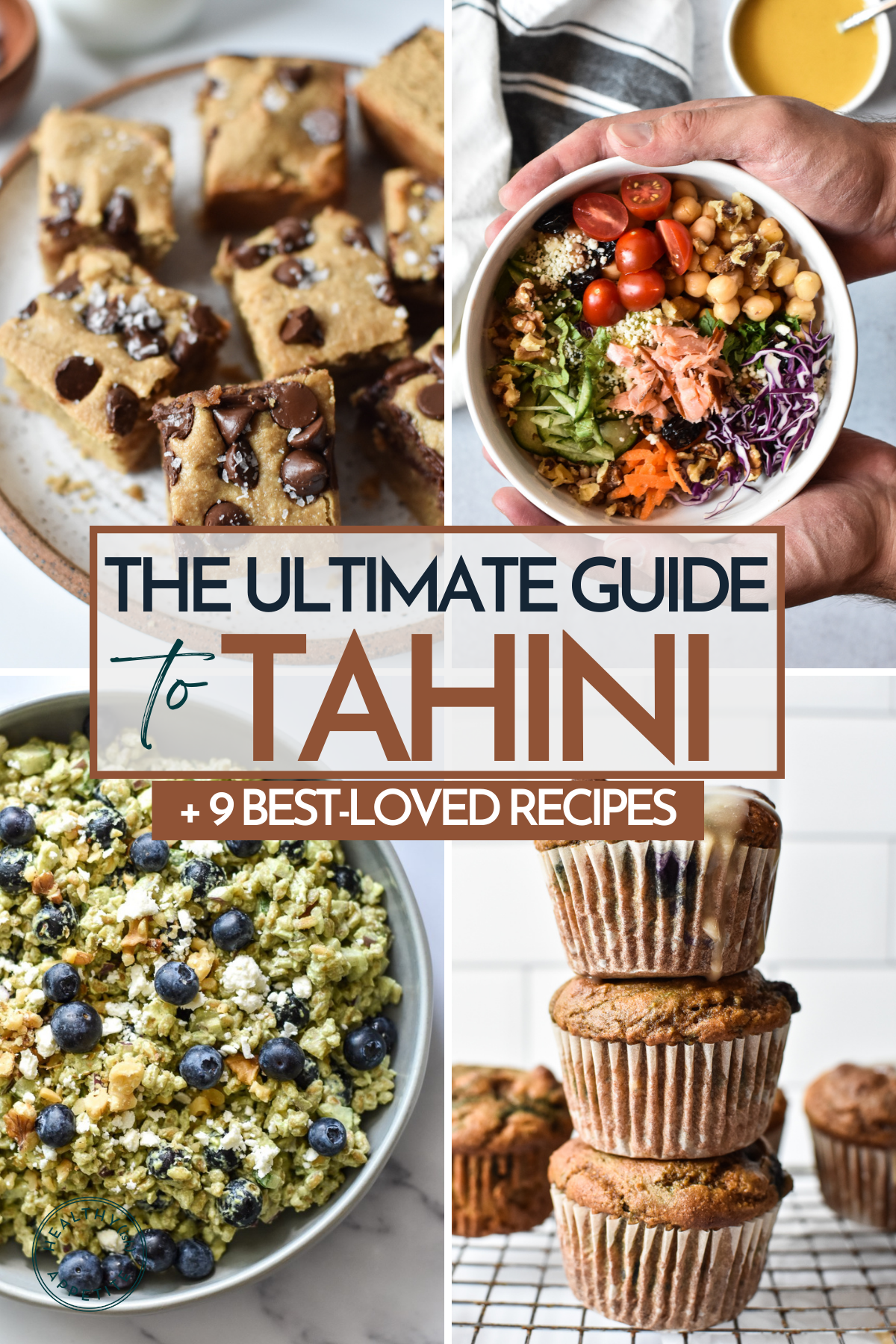 In recent years, tahini has become one of my most heavily used pantry staples. This seems wild because 10 years ago I probably didn't even know what it was. But between the versatility, the bold nutty flavor and the silky smooth texture, it has quickly become a favorite for both sweet and savory recipes alike.
Often when I mention it, I still get some confused readers who aren't sure what tahini is, how to use it or where to find it. I created this comprehensive write-up to answer all of these questions (and more!), plus share some of my most-loved recipes featuring tahini.
---
What You'll Find in this Post: The Ultimate Guide to Tahini
---
Tahini FAQs
What is Tahini?
Tahini is roasted and ground sesame seeds. It's like a nut butter, but is typically much more thin and pourable than the more traditional types like peanut or almond. On its own tahini has a nutty, almost bitter taste. While I wouldn't recommend eating it by the spoonful, it pairs especially well with sweet, spicy and citrus flavors. You'll find tahini in a jar or plastic tub in the nut butter aisle of the grocery store.
Is Tahini Gluten-Free?
Yes! Tahini in its simplest form is made of ground sesame seeds and mayyyybe some salt. There are some tahini products on the market that contain sweeteners and other flavors but I haven't come across one that contains gluten.
Does Tahini Go Bad?
Since it's made from a seed, tahini can eventually go rancid if it's not used in a reasonable amount of time. However most of the manufacturers I checked recommend using within 12 months of purchasing, so you have plenty of time!
Is Tahini Vegan?
Ye, tahini is naturally vegan.
Does Tahini Need to be Refrigerated?
It does not need to be refrigerated to keep it fresh, but you can refrigerate it if you prefer a thicker consistency (versus a more viscous consistency). I prefer to keep mine in the pantry so I can quickly and easily stir it into sauces and dressings.
What are Some Good Tahini Substitutes?
Nothing quite matches the beautiful nutty flavor, but if you absolutely need to substitute a different ingredient you can usually use a pourable peanut butter or cashew butter instead.
What Brand of Tahini do you Recommend?
I personally love Soom Foods tahini because it's incredibly creamy and doesn't need to be stirred much. It's silky smooth and mixes in sauces easily. You can find it in some grocery stores, on the Soom website or on Amazon at the link above.
Best-Loved Tahini Recipes
Vegan Blondies have to be one of my all-time favorites. Tahini works great in vegan baked goods as a substitute for butter, and these blondies are firsthand proof of that. The flavor and texture are both spot-on. Oh and also, it pairs beautifully with chocolate! You gotta make these.
White Chocolate and Raspberry Blondies are similar, but with a fun twist on the mix-ins. I just love the combination of fresh fruit and melty white chocolate. There is real unadulterated sugar in these, but I still think they're wholesome enough for breakfast or a sweet (semi-wholesome) snack.
Roasted Cauliflower with Tahini is a fun way to use tahini in a savory vegetable recipe. The drizzle is a great contrast to the raisins and the pistachios add crunch.
Nourish Bowls with a creamy punchy dressing is the ultimate power lunch in my house. It's a great way to use up fresh produce and just tastes great.
Tahini Cardamom Peach Crisp is such a unique twist on a classic end-of-summer dessert!
Maple Tahini Oatmeal Balls aren't your typical peanut butter oatmeal balls. The flavors of maple and tahini are a perfect match. They are sweet, salty and nutty. I like to coat them in a layer of sesame seeds for texture too.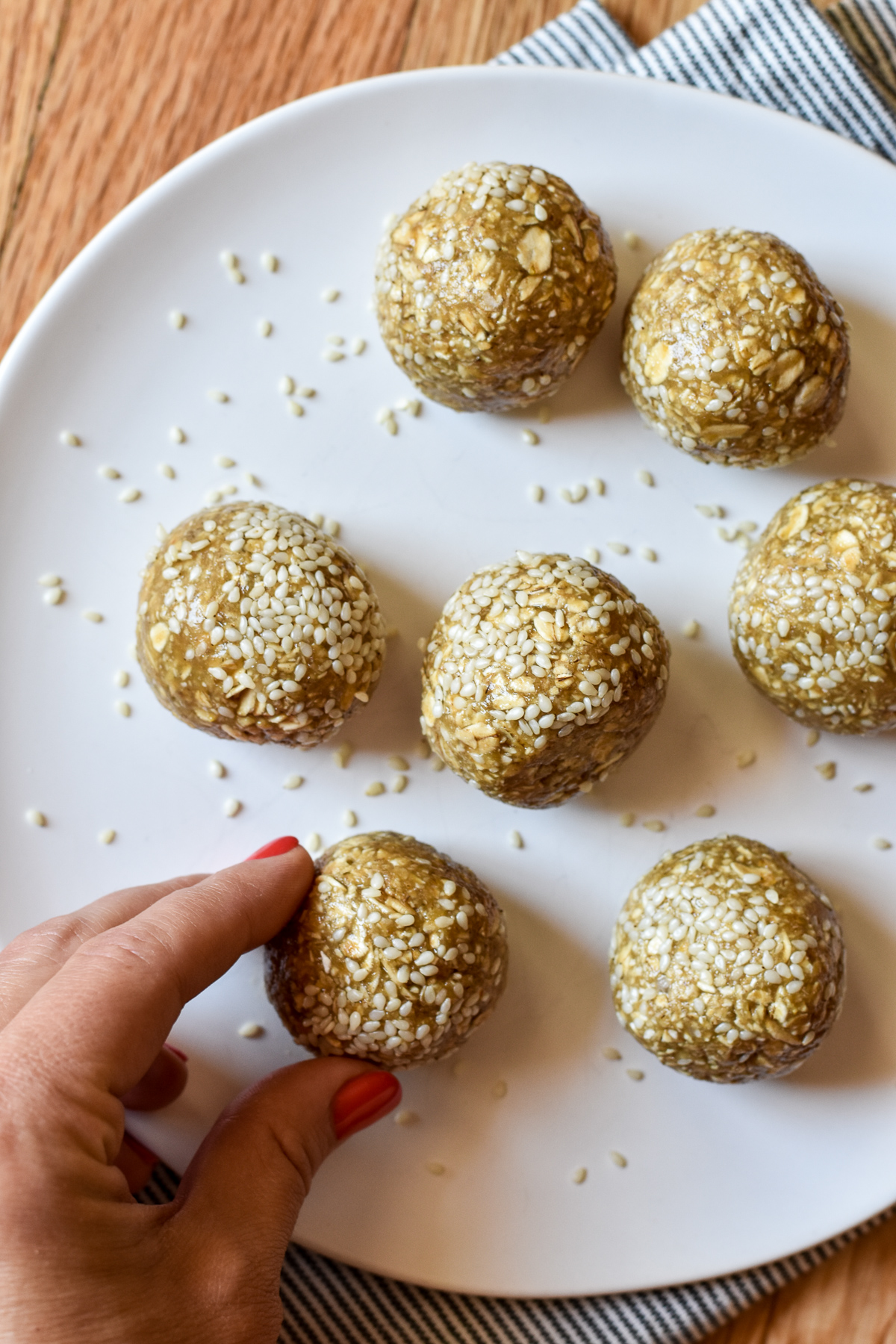 Farro Salad with Green Tahini is packed with fresh herbs, so it basically screams summer. Juicy fresh blueberries and salty feta cheese round out the flavor profile. It's another feel-good lunch option, or side dish for a backyard party.
Creamy Apple Cider Vinaigrette (as seen in my Autumn Rice Bowls). A rice bowl isn't complete without a dreamy dressing drizzled on top in my opinion. This tahini-based apple cider vinaigrette is truly unique thanks to the addition of cinnamon. I crave it in the fall, but would happily devour it at any time of year!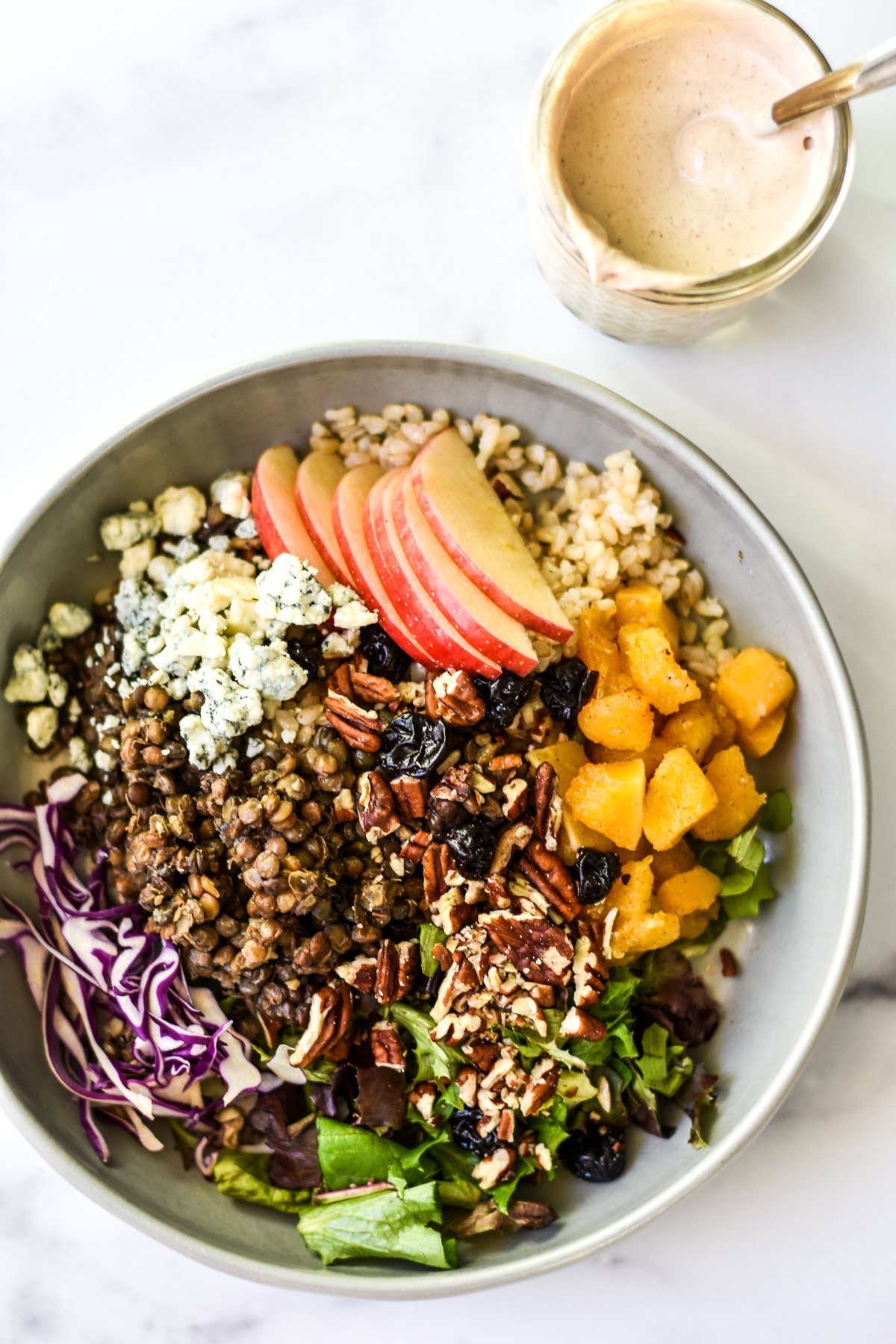 Pumpkin Blueberry Muffins with Tahini Glaze are such a treat! The one-of-a-kind glaze is simple: just whisk confectioner's sugar with tahini and the result is perfectly sweet and nutty.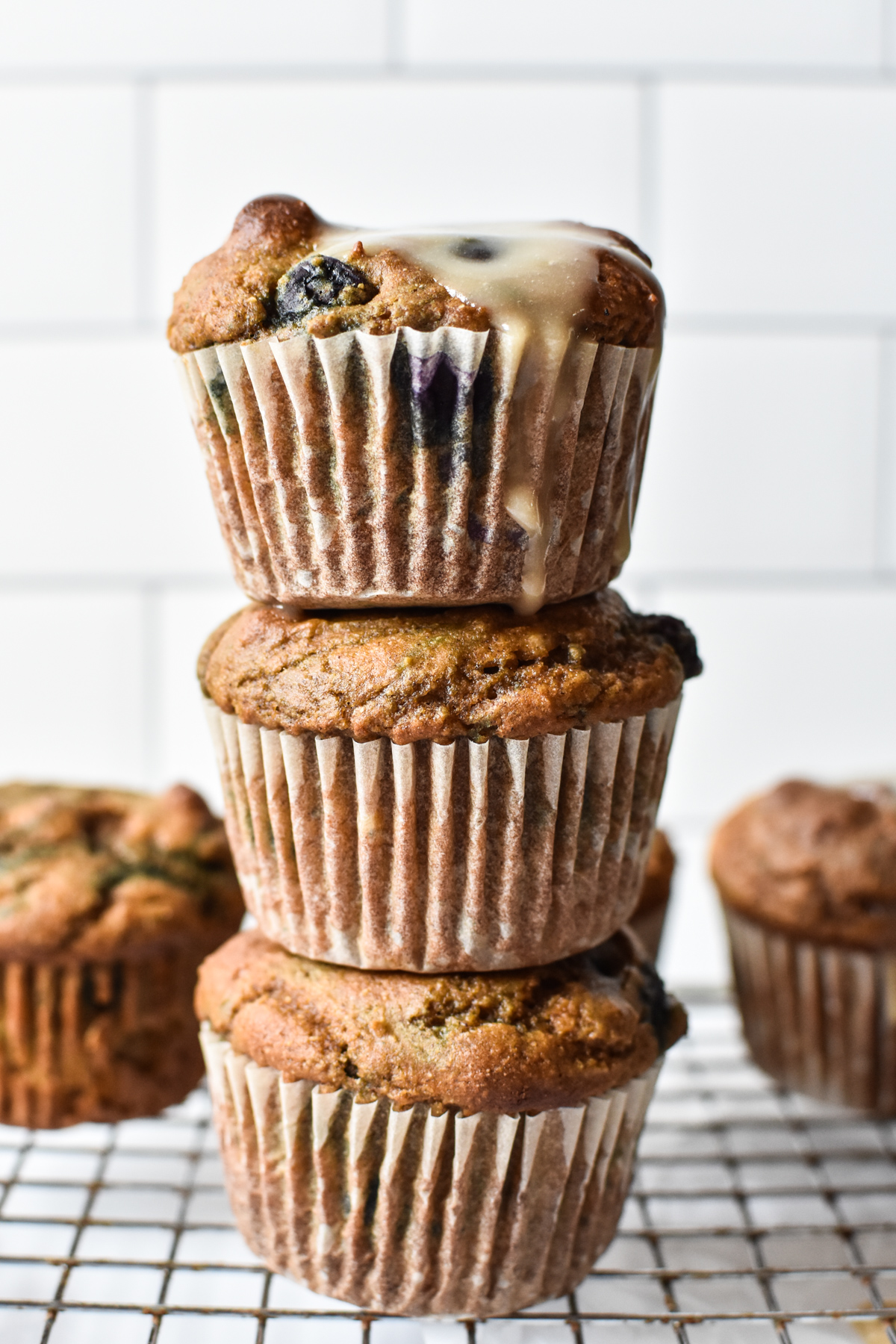 Looking for more nutty recipes? Check out all of my recipes featuring peanut butter too! And if you've tried any of these recipes, don't forget to leave a star rating and review to help other readers. Cheers!
Want More Plant-Forward Recipes?
Join my VIP list and I'll send you five reader favorites! Healthy, flavor-packed recipes. What's not to love about that?