Making pizza on the Traeger involves a few extra key steps, but the outcome is so worth it! This pizza has the perfect crispy crust which is sturdy enough to hold up to your favorite toppings. It's the best way to make pizza at home!
Would you look at that beauty that is grilled pizza?
I know we're switching gears a little bit today but I absolutely MUST share our technique for the perfect Traeger pizza because it's perfection and the world needs to know about it.
When I say "we" I'm talking about my husband and I but let's be honest, he does most of the work. I prep the toppings and make a side salad, he does the rest. Big shout-out to him for helping me nail down some formal instructions for this recipe!
What is a Traeger?
The Traeger is an extremely versatile wood-fired grill. You use pellets instead of gas or charcoal to fuel the fire, which means you get that classic wood-fired flavor and a nice and consistent final product. It's also very "techy" and easy to control the temperature (from your phone), so you can "set it and forget it".
The website calls it a 6-in-1 appliance because you can grill, smoke, bake, roast, braise and BBQ. I like to say that you can basically use it as an outdoor oven. It's very durable and can stay outside (we have a cover for it). You can even use it in the rain. This is one of those investments that you'll have for years and years to come.
Once summer arrives, we probably use our Traeger at least 1-2x/week to make dinner. My husband also uses it to make a cast iron skillet Dutch baby on the weekends. It's one of my most requested brunch meals at home!
Other favorites: pulled pork, beer can chicken, wings, burgers of all types, cold smoked salmon (for bagels & lox), smoked rosemary cashews, and lot's of grilled vegetables.
Why cook pizza on the Traeger?
The reason we love cooking pizza on the Traeger is because it gets very hot, very quickly. For this recipe we recommend 500° F. I don't like cranking my indoor oven that high no matter what the season so this works so much better. It's a great spring/summer appliance when the weather starts to get nice. And it's fun that you can impart the wood-fired flavor to your pizza too.
Tips for the Best Traeger Pizza
Besides the usual pizza-making tips, there are a few key steps we follow to make the perfect Traeger pizza.
Sprinkle the Dough with Cornmeal
Start by liberally sprinkling the countertop and dough with plenty of coarse cornmeal for that added textural component (it makes a noticeable difference).
Another dough tip: if you buy it from the refrigerated section like we do, make sure you let it come closer to room temperature before you stretch it out. If you skip this step, it will spring back into a ball. Conversely, don't let it sit out too long, or the crust may end up too thick and chewy.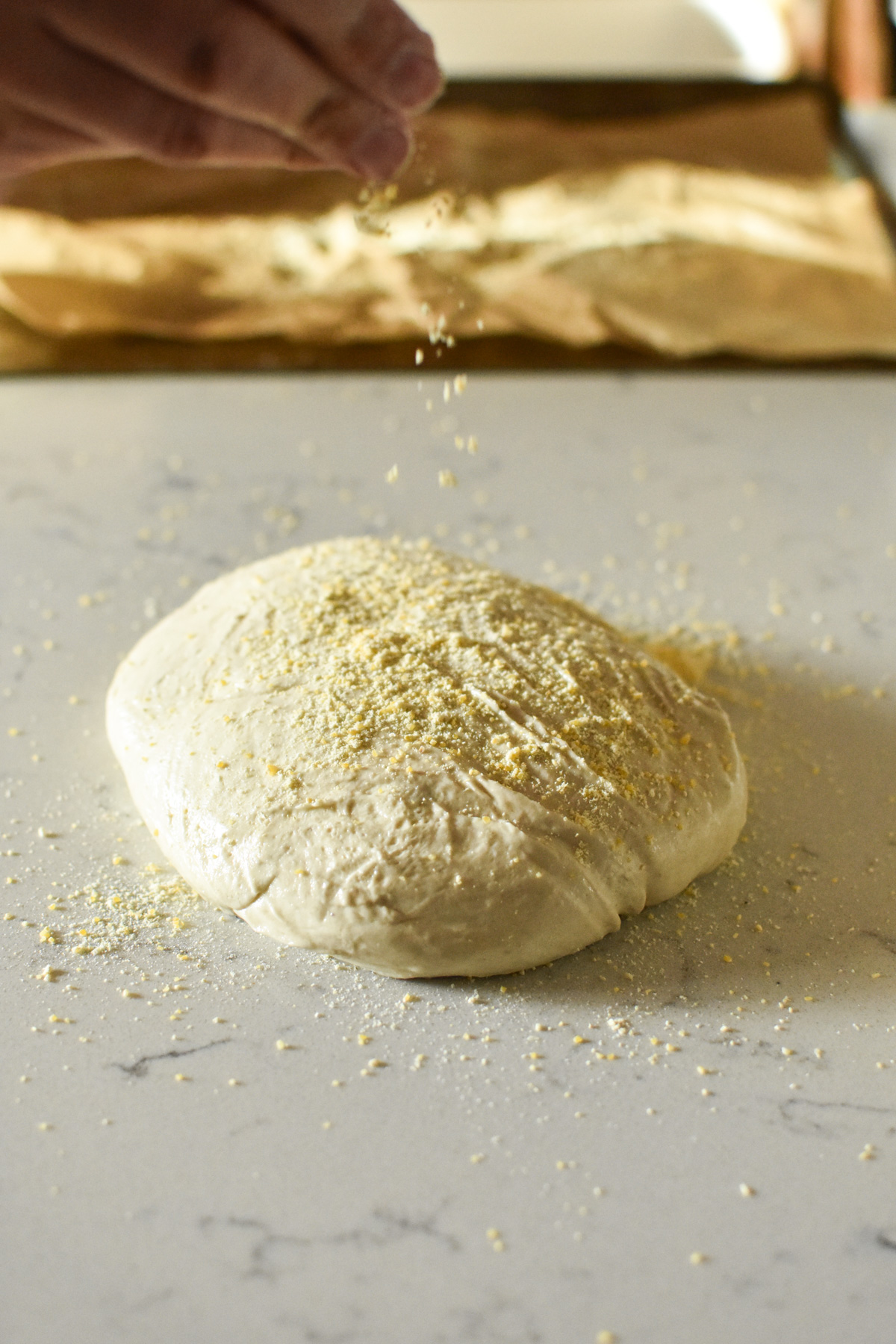 Use Parchment Paper for Easy Transfer
There are several ways to transfer your pizza to the grill but we like to use parchment paper. Line a cookie sheet (one with no edges) or cutting board. Once you place the uncooked pizza dough on top, use scissors to cut around it, removing excess paper. This prevents it from scorching and catching fire.
Cook on a Hot Pizza Stone
A really important step: put a pizza stone on the grill while it's heating up so the surface gets nice and hot. This is how you get that super crispy crust on the bottom! There's nothing worse than a floppy piece of pizza. Because you have the parchment underneath, it will be super easy to slide on and off the hot stone.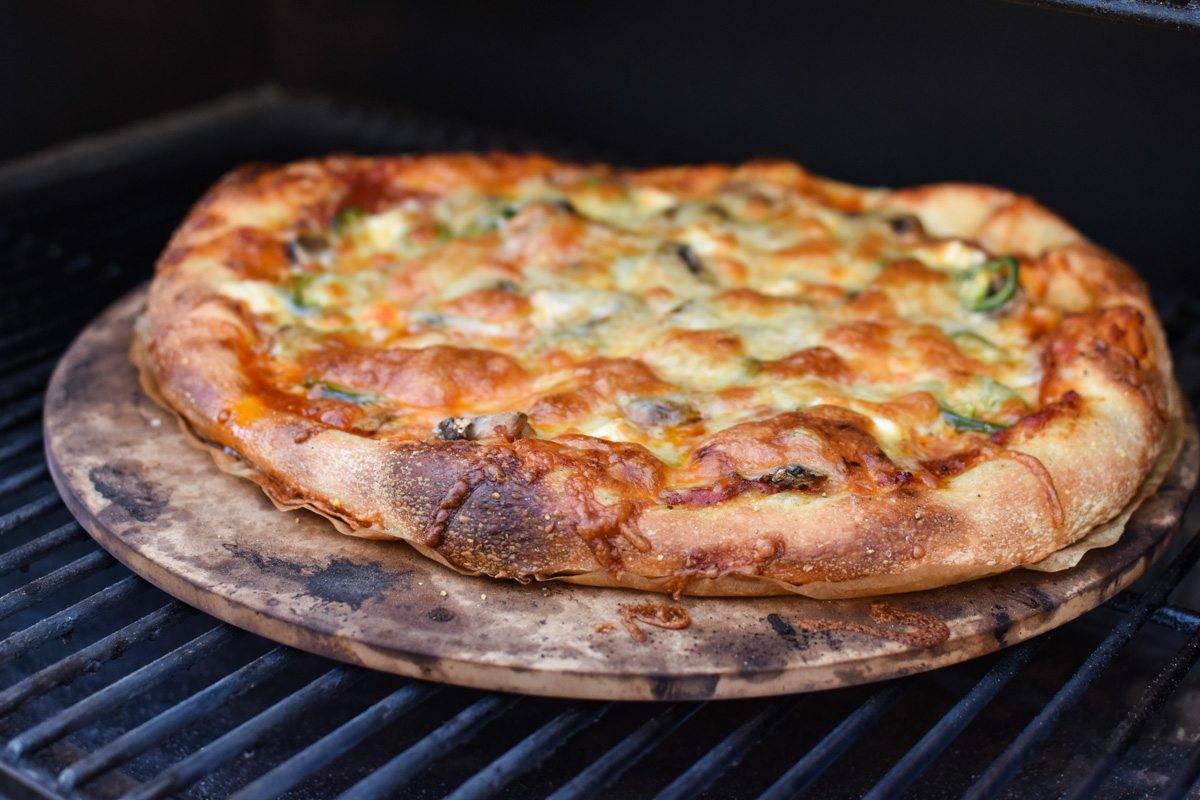 Topping Ideas
Our favorite variation is the one pictured (the first bullet point listed, and the one you'll find in the recipe card below). We do like to get creative sometimes and try the others too. I would recommend going lighter on toppings than you think you should, so you don't weigh down the crust. Once you make it a few times, you'll be able to eye-ball it without a problem.
Classic: Pepperoni, mushroom, jalapeño, cream cheese, mozzarella
Sweet & Savory: caramelized onions, pears, bleu cheese, walnuts (with an olive oil base)
Veggie: tomatoes, fire-roasted corn, red onion, kale, burrata (my summer pizza)
Non-traditional: this pumpkin pizza with pancetta and crispy sage is something different and so delicious.
Traeger Pizza FAQs
What type of dough do you use?
We never make dough from scratch because Whole Foods makes an excellent fresh dough in store and it's just $2.99. You can also find a ball of fresh dough at Trader Joe's or you can often buy it from your favorite pizza restaurants.
What sauce works best?
Any jarred pizza sauce or your favorite red sauce. I buy Rao's Homemade marinara sauce from Costco so I always have it in my pantry.
Do you recommend fresh mozzarella or the pre-shredded kind?
I find that using fresh mozzarella (the one in a ball in the deli section) has too much moisture and can weigh down pizza so I use the pre-shredded variety.
I love serving this pizza with a fresh and crunchy salad or vegetable side and a glass of red wine on Friday night. It's my favorite part of the week! The Traeger grill is definitely an investment but we sure do love ours and use it often.
What to Serve on the Side:
Print
Traeger Pizza
Making pizza on the Traeger involves a few extra key steps, but the outcome is so worth it! This pizza has the perfect crispy crust which is sturdy enough to hold up to your favorite toppings. It's the best way to make pizza at home.
Author:
Prep Time:

10 minutes

Cook Time:

20 minutes

Total Time:

30 minutes

Yield:

8

servings

1

x
Category:

Mains, Entreés

Method:

Grill

Cuisine:

American
Ingredients
1

ball store-bought pizza dough

1 cup

marinara or "pizza" sauce

1 ounce

thinly sliced pepperoni

1 cup

sliced mushrooms

1

small jalapeño, sliced

1 ounce

cream cheese

1.5 cups

shredded mozzarella cheese
Instructions
Place a pizza stone on the Traeger and preheat to 500° F. Line a cookie sheet with no sides, or a large cutting board with parchment paper. 
Sprinkle a clean countertop with cornmeal and place the ball of dough on top. Use your hands to stretch, pull and make a uniform oval shape then move to the parchment-lined surface. Brush with olive oil and season with kosher salt. 
Spread sauce evenly in one layer (leaving about 1/2″ around the edge for the crust). Layer pepperoni, mushrooms and jalapeños. Dot with cream cheese. Finish with mozzarella cheese.
Slide the pizza/parchment paper onto the hot pizza stone and close the grill. Cook about 12 minutes, then turn pizza since the back of the grill tends to be hotter. Cook an additional 8-10 minutes or until crust is brown and crispy all over and the cheese is nice and bubbly. 
Use a pizza peel to transfer the pizza onto a cutting board. Slide the parchment paper out from underneath. Let pizza stand for 2-3 minutes before slicing.
Notes
The equipment section above provides affiliate links to things I use often in my kitchen and love.

I couldn't find the exact pizza stone we have, but the one linked looks very similar and has great reviews.
Nutrition
Serving Size:

1 slice

Calories:

290 calories

Fat:

10 grams

Carbohydrates:

38 grams

Fiber:

2 grams

Protein:

12 grams
Keywords: grilled dinner, grilling, summer dinner, mushrooms, 30 minutes or less
Want More Plant-Forward Recipes?
Join my VIP list and I'll send you five reader favorites! Healthy, flavor-packed recipes. What's not to love about that?